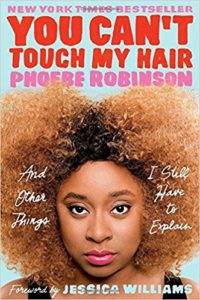 Recently I finished reading Phoebe Robinson's awesome book, You Can't Touch My Hair. While a great deal of the content and the attention the book has received has mainly focused on Robinson's struggles with her black hair throughout her life, I was particularly interested in two parts of the book that specifically revolve around instances of white privilege. To be even more specific, white privilege in the LGBT community. One issue is regarding the story of the white lesbian couple that didn't want a biracial child and the other is a sad tale of the white lesbian fetishizing a black female slave.
I discussed this book with one of my friends, Melissa, a very outspoken black lesbian who has had negative experiences with some white LGBT folks, and I wanted to get her thoughts on the book. After talking to her, we came to the same conclusion about this racial identity issue in the LGBT community.
Just a quick refresher, a couple of years ago a white lesbian couple in Ohio used a sperm bank to get pregnant. The bank gave the couple sperm from a black donor instead of a white donor they requested. After giving birth to the child, they then proceeded to sue the sperm bank for the mistake. Mind you, the couple had every right to sue the sperm bank, but they seem to be doing more damage to their child's life through the lawsuit and the media frenzy that ensued at the time.
I remember when this story first happened. One of the mothers was on TV complaining about the "emotional distress" of living in a conservative, bigoted, lily-white community in Ohio with a biracial child and the punishment of dealing with their child's natural hair.
The first thing to come to my mind was that the conservative, bigoted, lily-white community in Ohio hated the biracial child, but was okay with being neighbors with a lesbian couple.
Okay, girl…
"The couple sees themselves as white before gay," Melissa said. "They live in literal white privilege in Ohio and thought as long as they are white, they could pass and be seen as equals in their white community. Having the black child disrupted their white privilege status. Instead of them saying 'Hey, let's move to a community that is more diverse, and inclusive, and welcoming of our family,' they are basically saying 'Hey, this black kid with the nappy hair is messing up our white privilege lifestyle, and reminding the community that we are not really white because of our dyke status.'"
I couldn't have said it better myself!
Regarding the other issue, Robinson recalls in her book when she took a writing class at Pace, and a white lesbian classmate wrote a story about the relationship between a black female slave and her slave master's daughter. Yeah, this actually happened…
From an NPR interview Robinson did last year:
…This one girl in my class, she's very sweet but she just recently discovered that she was a lesbian — which I was like: Yes, it's amazing that you found yourself. So, she wrote this play that … I think it was coming from a good place, it really was, but she wrote this play about slavery. …

Basically, the slave had the chance to get her freedom, but she turned it down to stay being a slave at that plantation or whatever because her and the slave master's daughter were like having an affair. …

I kind of had to speak up and be like, you know, I don't think any slave would be like: "Hard pass on freedom, I'm going to keep picking cotton so I can hook up with this chick twice a week." …

…If you want to write a story about slavery, by all means, do it. But it has to come from a place that's respecting the past and respecting the people in it…
There is so much wrong with this story. This again proves my point about the problem of sanitizing the history of slavery. People are graduating from schools today who don't have any clue about the harsh realities of slavery, and this incident is a result of the lack of proper education on the subject. When you have people going around saying that slaves were "migrant workers" and Sally Hemmings was a "mistress," then you can't be surprised that this classmate would write such an inappropriate story.
Again, Melissa and I agreed that this not only showcases white privilege in the LGBT community, but it also fetishizing black bodies.
"This reminded of this time I briefly dated a white girl in grad school who had a hard time understanding why the black gay community might not have the same life priorities and concerns as white gays," Melissa said. "I used to tell her that gay black people deal with the same problems straight black people deal with – racism and discrimination – living while black stuff, right. We are out here struggling with housing, poverty, healthcare, and cops beating us up. She was all about marriage equality is the priority.  I'm discriminated more for being black than for being gay in my everyday life because it is easier discriminate against skin color than sexuality because it is obvious. Most black people are obviously black and it is easier to discriminate against that. Whereas, most gay people are not obviously gay, unless they say so. Gay whites have the privilege to pass when they need to in most cases."
Interesting! And this is why they dated briefly.
"We had been dating for a few weeks and stuff was starting to get sexual between us, and she texted me out of the blue that she had this sexual fantasy of me being a criminal breaking into her apartment to rape her with a big, black, veiny dildo," Melissa said. "I didn't even know what to say. The whole black criminal thing really had my head go back. I was like this girl is really sick in her racist mind and wanted me to live out her warped black, rapist, lesbian BBD fantasy. The fact that she would even text that to me and not think twice before pressing send says a lot. I texted her back and told her to never contact me again and I blocked her. Blocked her! Never saw her again. I don't really mess with white women anymore.  I mostly date my own kind now."
Well, alright then… I wasn't expecting Melissa to say all that…
I don't really know how to appropriately end this post after writing that. Just go read the book!