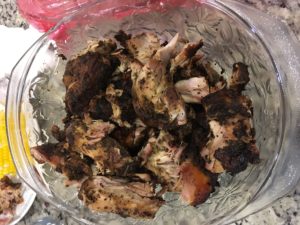 In addition to the international potluck I went to last month, I also attended my sister's housewarming party where she served jerk chicken.  I don't eat chicken that much since I mostly eat a vegetarian diet.  But when I sank my teeth into that spicy piece of meat, it brought back some great childhood memories of summer cookouts at my aunt's house who would grill up jerk chicken in her backyard.
So for a fundraising event I hosted recently, I grilled up some jerk chicken for my happy guests.
Here is the recipe I have been using for a while that I found online:
Jamaican Jerk Chicken (5-7 servings)
1 (5 or 6 pounds) roasting chicken, cut in half, lengthwise
a pair of plastic gloves for handling ingredients
Large zipper lock plastic bag
1/2 cup malt vinegar (or white vinegar)
2 Tbsp dark rum
2 Scotch bonnet peppers (or habaneros), with seeds, chopped
1 red onion, chopped
4 green onion tops, chopped
1 Tbsp dried thyme or 2 Tbsp fresh thyme leaves, chopped
2 Tbsp olive oil
2 teaspoons salt
2 teaspoons freshly ground black pepper
4 teaspoons ground allspice
4 teaspoons ground cinnamon
4 teaspoons ground nutmeg
4 teaspoons ground ginger
2 teaspoons molasses
1/2 cup lime juice
Salt and pepper
Mix vinegar, rum, hot peppers, onion, green onion tops, thyme, olive oil, salt, pepper, allspice, cinnamon, nutmeg, ginger, and molasses into a blender until it's smooth.
 Put cleaned chicken in the bag and coat the chicken with lime juice and then pour the jerk mixture on it.  Seal the bag and refrigerate overnight in a pan.
 There are two ways to cook your chicken – on a grill or oven baked
Grill instructions: Cook for approximately one hour, keeping the internal grill temperature between 350°F and 400°F, turning the chickens occasionally and basting with marinade, until the chicken halves are cooked through. The chicken is done when the juices run clear.
Oven instructions:  Preheat oven to 350°F. Place chicken halves in a rimmed baking pan, skin side up. Roast until chicken halves are cooked through, about 50-60 minutes. The chicken is done when the juices run clear when a knife tip is inserted into both the chicken breast and thigh.
Here are some visual instructions, courtesy of CaribbeanPot.com