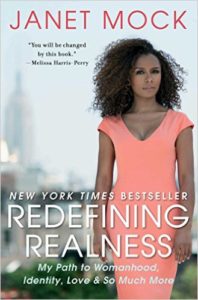 I just finished reading Janet Mock's first book, Redefining Realness: My Path to Womanhood, Identity, Love & So Much More.  I had only wished I had read this book sooner.  I am so glad that we are living in a moment when trans folks and other marginalized groups are finally having their voices heard.
The memoir chronicles Mock's life starting as a child coming to grips with her gender identity in a broken home, switching between her mother's home in Hawaii and with her dad in Oakland and Dallas.  It is hard enough to grow up with poverty and drug addiction with your parents and surviving sexual abuse as an adolescent, in addition to going through a gender transition.
I also admire the level of maturity Mock had as a teenager.  Many of the decisions she had to make at an early age forced her to have to grow up very quickly. The most interesting part of the book was near the end when she raised money through sex work to have gender reassignment surgery in Thailand.  Having gender reassignment surgery at any age is a big decision to make, let alone at 18.
The book does a great job of explaining the many issues and concerns within the transgender community, like stigma and discrimination faced by trans folks within families, schools, and workplaces.  As a cisgender person, these are many issues I sometimes take for granted.
I do encourage others to read this one before reading her new book!