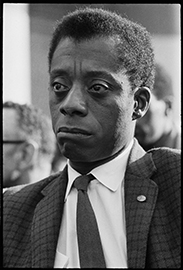 Last weekend I saw Raoul Peck's excellent documentary about James Baldwin, I Am Not Your Negro. Baldwin says so many mindblowing things in the film that it would be hard to try to reinterpret everything that was said by him (so see the movie!). However, if you are unfamiliar with his work, please start reading some of his books, particularly No Name in the Street and The Devil Finds Work, which the film quotes from regularly.
The basis of this movie comes from an unfinished script Baldwin wrote to his agent in the 1980s called Remember This House. In it, he documents his relationships with his friends and civil rights icons Malcolm X, Medgar Evers and Martin Luther King Jr.
I was most fascinated by this film because I now have a deeper appreciation for his thoughtfulness and powerful vocal expressions which are still relevant today. Watching the film would give you the impression that he was still alive today speaking about current racial and political issues, although most of the interviews from the movie were done in the 1960s.
Baldwin was years ahead of his time!
Out of the many, MANY things, one thing I remember him saying in the film was that he is only an optimist because he is still alive. Meaning life as a black man in America, whether in the 1960s or today, is pretty dismal. When he said that, I immediately thought of the continuing murders of unarmed black boys and men I see on the news regularly. I also thought about the continued disrespect black people face even in the highest levels of society. Look at all the racial hostility President and Mrs. Obama faced from white detractors and the amount of dignity and class they showed them in return. Unlike the current president, Obama had thick skin and had courage under fire.
We all have to be optimists just to survive.