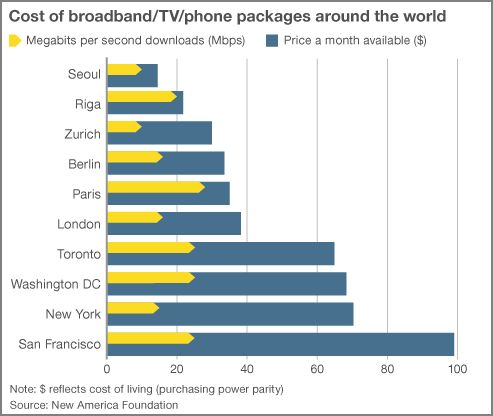 We all know the price for internet access in the United States is getting out of control.  But this issue really came close to home a couple of months ago when a good friend of mine and longtime neighbor was laid off from her job.  She told me that in order for her to cut down on expenses, one of the first things she did was cancel her internet and cable TV package with her provider.
I can understand getting rid of cable TV, which mostly shows useless programming these days, but the internet seemed like an ironic decision.  She can't afford to have internet access anymore because she lost her job; however, she needs internet access to search for her next job.  Of course, being a good friend, I offered to let her use my computer if she needed it.
However, even I wonder how much longer I will be able to afford my combo package.  I have a internet and land line phone package that costs roughly US$115 a month.  I considered dropping the phone and just getting an internet subscription recently.  When I contacted my provider, I was told it would cost US$39 just for the internet, but that doesn't include all the other taxes and "hidden fees", which jumps the price up to near US$90 a month.  So I ended up keeping my phone and internet package.
My friend is a single mother with two small children.  When she was working, she was barely making above minimum wage.  Not having internet access in her home is a burden for her in other ways too.  She has a desktop computer, so she doesn't have the luxury of taking a portable computer to the local Starbucks or library to use the free WiFi.
She could use the computers for free at the library, but that comes with problems sometimes.  There is always a line of people waiting to use the computers.  Users are only given 30 minutes and can extend their time by another 30 minutes if there isn't another person waiting, which is not very often.  Sometimes there is no guarantee that you will even get to use a computer before the library closes.
Even if you do get a computer, 30 minutes to do a job search is not enough time.  Most of the time, the connection speed is slow.  There are only four computers in the adult area for use, and two of them are either broken or down because of a virus most of the time.  There is no IT support guy in the library to fix the problem, and the staff librarians don't know what to do with broken computers.
Luckily, there are programs like Technology Goes Home and other government subsidized programs she may qualify for, but even this is just a small band aid on a gushing wound.
My friend is like millions of other Americans who are being impacted by a new kind of digital divide.
I did a little research to see how other countries line up with the United States regarding cost and speed, and let me tell you, if more Americans knew what people in other countries pay for their internet service, there would be riots in the streets.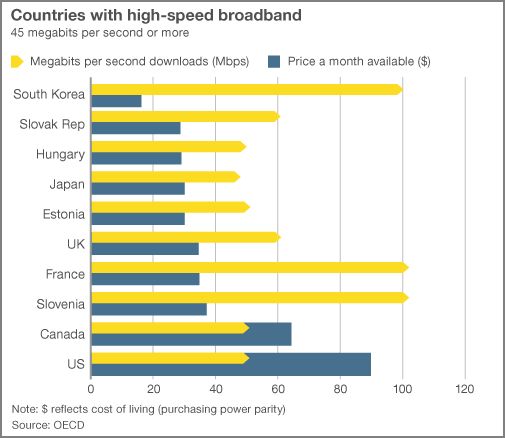 As you can see in the top images, South Korea leads the world in both low cost and high broadband speeds.  Unlike in the United States, South Korea recognizes that internet access is a basic utility and not a luxury item.  Interestingly enough, this was the same exact conversation Americans were having 100 years ago; just replace internet with electricity.  Yes, there was a time in this country's history when only rich people could afford to have electricity in their homes, while the rest of the country was price gouged.  Eventually, this country came to the realization that it was in society's best interest that everyone have access to electricity.
Today we take electricity access for granted; we just expect it to be there when we switch on a light or recharge our mobiles.  At this time in our history internet access should also be seen as essential for our lives too.  There are not many things in life you can do anymore without internet access.  It is time to better regulate how private companies provide their internet service so people like my friend are not left behind in the new digital age.