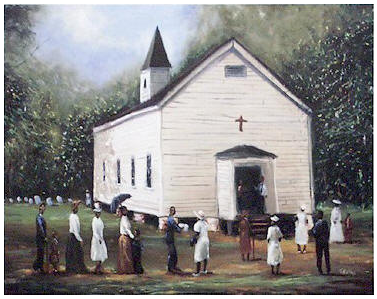 I had the opportunity to view an interesting film recently called Contradiction: A Question of Faith.  This documentary delves into the role religion has played (or not) in the African American community.  African-Americans are deeply religious and a church can be found on every corner in many black neighborhoods.
But according to the film's director Jeremiah Camara, despite the heavy church attendance and the approximately $250 million weekly tithings, African-Americans have very little to show for being faithful.  Why are there still so many social and economic problems within the black community?  Isn't God listening to their prayers?
"Religion flies through the airwaves, 24/7. Never is the dissenting voice heard. It's time to hijack the mic," said Camara.
Whether you are a devout Christian (or Muslim or Jew etc) or a staunch atheist, Camara is right that there isn't much discussion in American media about being a non-believer.  According to the Pew Center, the rate of people not affiliated with any religious denomination is growing in America. In the last five years alone, the percentage of religiously unaffiliated Americans has grown from 15 percent to 20 percent.  Many unaffiliated Americans are still religious or spiritual in the broadest sense of the word, but there is clearly a movement away from traditional religious institutions.
There should be more voices speaking for atheists, agnostics and other unaffiliated Americans besides Bill Maher.
Camara recently launched an Indiegogo campaign to raise funds for his film.  The donations will support marketing the film and getting it on DVD.
If you support free and diverse speech, you might want to check out this film.