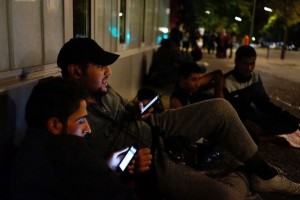 Over on Global Wire Associates' blog this week, we have a post about how technology is support the recent influx of Syrian and Latin American migrants entering eastern Europe and the United States, respectively.  Our blog is designed "to provide thoughtful coverage and commentary on the politics of technology and social innovation." In the last couple of days we have received a barrage of emails, criticizing us for "promoting a pro-immigration agenda."  Global Wire Associates doesn't have an official position on the very complex issue of immigration; the point was to showcase how apps and coding are being used by migrants.
But I guess many of you didn't view it that way.  So I decided to publish a couple of the emails we received so far here. Most of them were about the American immigration debate.  I withheld their their names and email addresses.
"I do not understand why you all are telling illegals how to enter this country illegally.  This is very irresponsible and your blog should be shut down!"
"Germany is being overrun by these Syrians.  I don't care for teaching them how to code.  They and [Angela] Merkel must go!"
Again, this is just the opinions of others and we didn't take any specific policy position here.  Many of them complained that illegal immigrants were taking jobs from natural born citizens.  One of the points we brought up in the post was about Refugees on Rails, a nonprofit that teaches refugees how to code, which is a useful technical skill needed in today's job market.  Despite complaints from anti-immigration advocates, in this case, refugees who are properly trained are taking jobs that are not being filled by native citizens.  
As in the United States, European countries have a severe shortage of people pursuing ICT careers.  A report shows that Europe will have 800,000 ICT jobs unfilled by 2020 if nothing is done to increase the number of workers, and most of these digital skills deficits are seen in poorer eastern European countries.  Programs like Refugees on Rails can actually jumpstart the economy with technologists who are eager to work in their new home countries.
This is a slightly different issue in the United States, where most undocumented immigrants tend to work in under-the-table jobs in the agricultural and janitorial sectors – again, jobs most U.S. citizens don't want to do.  The reality is that there are over 11 million undocumented immigrants in the United States, and they are not all going to be shipped back to their home countries, despite whatever Donald Trump says.  Maybe there should also be something similar to Refugees on Rails in this country for immigrants who want to work legally in an in-demand ICT field that pays a living wage.   
I guess I will get negative emails for saying this too.  But before you email me, please tell me if you have a better solution for the immigration crisis and the economy.