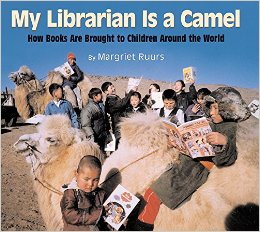 I recently purchased a book for a young family member called My Librarian is a Camel: How Books Are Brought To Children Around The World by Margriet Ruurs.  Living in a Western country, we tend to take for granted our public libraries, where you can easily have access to millions of books.  This is not the case in most parts of the world, where access to literacy is far and few in between.
This children's picture book shows how books are uniquely brought to different communities, whether by boat, bicycle, wheelbarrow, and, yes, even by camel.  In Thailand books are delivered by elephant in rural areas. In many countries like Australia and Azerbaijan, specialized library trucks go into underserved communities and also act as classrooms with built-in computers with WiFi and air conditioning.  For many users, this is the only way to access the outside world.
According to UNESCO, approximately 781 million people worldwide are illiterate, and many schools in the developing world have few, if any, books to use for educating students. Better access to books not only improves literacy, but also opens up more doors for social and economic mobility.
The gift of literacy is the best gift you can give someone. Worldreader is an organization that provides e-readers and digital libraries to children in developing countries.  If you are looking to make a donation to a worthy cause this holiday season, please consider them!