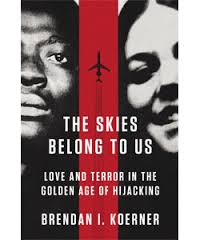 My post about the Black Panther documentary last month inspired my interest in learning more about the BPP international section.  I was browsing through my library a couple of weeks ago and realized that I had a copy of Brendan Koerner's book The Skies Belong to Us: Love and Terror in the Golden Age of Hijacking
(Disclaimer: I got this review copy of the book for free from the publisher a couple of years ago, but never got around to reading it at the time.)
This is one of the best books I have read in awhile.  Part investigative journalism, part thriller, this book doesn't disappoint!  I literally couldn't put this book down and finished it in three days.  The book centers around Western Airlines Flight 701, which was hijacked in 1972 by Roger Holder and his then girlfriend Catherine Kerkow.  This story has everything – sex, drugs, violence, mental illness, racism and politics.
Koerner does an excellent job of describing the hijackers' backstory.  Holder and Kerkow, other than the both of them living in the same town of Coos Bay, Oregon briefly, couldn't have been more different from each other.  He was a black man who felt discriminated against because of his skin color; first while living with his military family in Oregon and then as a soldier in Vietnam who was wrongly court-martialed for a petty crime.  She was a white woman who had a typical working class upbringing who became a masseur that gave hand jobs to male clients and sold marijuana on the side.
Holder had gone AWOL, writing bad checks and dealing with the onset of PTSD when he met Kerkow in San Diego.  He came up with the crazy idea of hijacking a plane, swapping the passengers for Angela Davis, who was on trial at the time for the Marin County incident, and bringing her to the Vietcong in North Vietnam.  The plan was to get ransom money that Holder and Kerkow would use to start a new life in Australia.
Sounds pretty crazy me, and unbelievable that the plane crew believed it, but they got away with it – sorta. Instead of going to Vietnam, they took the hijacked plane to Algeria, where they met up with Eldridge Cleaver and other Black Panthers on the lam.
I won't give away too much of the story, but it is that wild and crazy and worth the read.  I will say that Catherine Kerkow is still on the run, and wanted by the FBI.  She has been rumored to be living in Cuba, but there is no substantive proof.
But the book is not just about Holder and Kerkow.  Koerner spends most of the book giving a substantive history of the "golden age" of hijackings, which was a common occurrence during the 1960s and 1970s.  I am only old enough to understand hijackings through the context of 9/11.  But even before 9/11, I never knew of a time when there weren't metal detectors and security guards searching your person at the airport.  It seems impossible for me to imagine a time when people could just walk onto a plane without any of the strict security hassles we deal with today.
Apparently, this atmosphere of innocence did exist for a short time 50 years ago when commercial air travel was becoming more accessible to more people.  Many "skyjackers" saw this as an opportunity to use planes as vessels to gain worldwide attention.  Most of the earliest skyjackers were Fidel Castro sympathizers who wanted to fly to Havana.
Over time, skyjackers' reasons for taking planes became varied and, well, insane.  Some wanted to bring attention to legitimate struggles like the Palestine question or racism in America, while others hijacked planes to avoid paying taxes or just wanted to get ransom money.  A lot of the hijackers were really mentally disturbed, especially the ones that parachuted off planes mid-flight like D.B. Cooper. Hijackings became so common during this time that there was one or two once a week.
These hijackings straddled the fine line between revolutionary acts and terrorism.  It makes you wonder if everyone during this time was crazy… or just high!
The only hijackings I was aware of before reading this book were the ones carried out by the Popular Front for the Liberation of Palestine during the Black September timeline, and specifically PFLP member Leila Khaled – who hijacked two planes – the first woman to ever hijack a plane.  An interesting documentary about her life was done a few years ago.
The book also introduced me to Delta Air Lines Flight 841, which was hijacked by radical black militants who wanted to copycat the Western Airlines incident. They are mentioned in Koerner's book, but there was also a more indepth documentary done about that incident too.  In the film, the director goes to Paris to interview one of the hijackers George Brown.
Whatever reason a plane was hijacked back then, the skies no longer belong to anyone today.