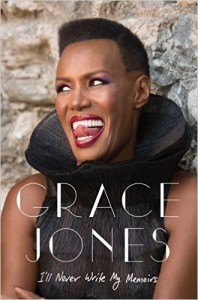 One of the things I want to do more of this new year is read and review books here.  I get so many books for free to read from publishers and publicists, that maybe I should take more advantage of these opportunities.
A great way to kick this off is with Grace Jones' new memoir ironically titled I'll Never Write My Memoirs.  I was first introduced to Jones by way of the 1990s film Boomerang, where she plays an crazed supermodel who throws her panties around and says p*ssy a lot.  She also had a few hit songs back in the day, notably Slave to the Rhythm, My Jamaican Guy and La Vie En Rose – all songs I have currently on my iPod.
She is best known for her androgynous look and wild antics, but I didn't much much about her beyond that.  With David Bowie's tragic death this week, it is easy to say that she is his female equivalent. She popped up last summer at AfroPunk in all her glory.  I think her performance was amazing.  So I was happy to hear that she was finally releasing her memoirs a few weeks afterwards.
Her book really gave me a chance to get to know her better.  She is a little before my time, but she is still very relevant. There wouldn't a Lady Gaga, Nicki Minaj or even Madonna if there wasn't a Grace Jones.  But as she says in the book, unlike many of the today's singers, she wasn't putting on an act, she really is a unique wild child.  
She has always been out there long before she became famous; she not putting on an act.  Jones is an original, and not, as she calls Kim Kardashian, a "basic commercial product." "I cannot be like them, except to the extent that they are already being like me," Jones says in her book.
So how did Grace Jones become Grace Jones?  The author goes back to her humble beginnings in Jamaica, where she was raised in a strict family of Pentecostal ministers.  When her family moved to Syracuse, New York in the 1960s, it was an opportunity to break away from her religious upbringing.  The book goes into her hippie years doing theater in Philadelphia and living in a commune.  She then moves onto Paris via New York, where her modelling and music careers take off.  She also talks about the many lovers she had over the years, including her on-and-off relationship with Jean Paul Goude, the father of her only child, Paulo, actor Dolph Lundgren, and her brief marriage to a Muslim man who is half her age.
There is also so much name dropping in the book that you start to wonder what famous people Jones doesn't know!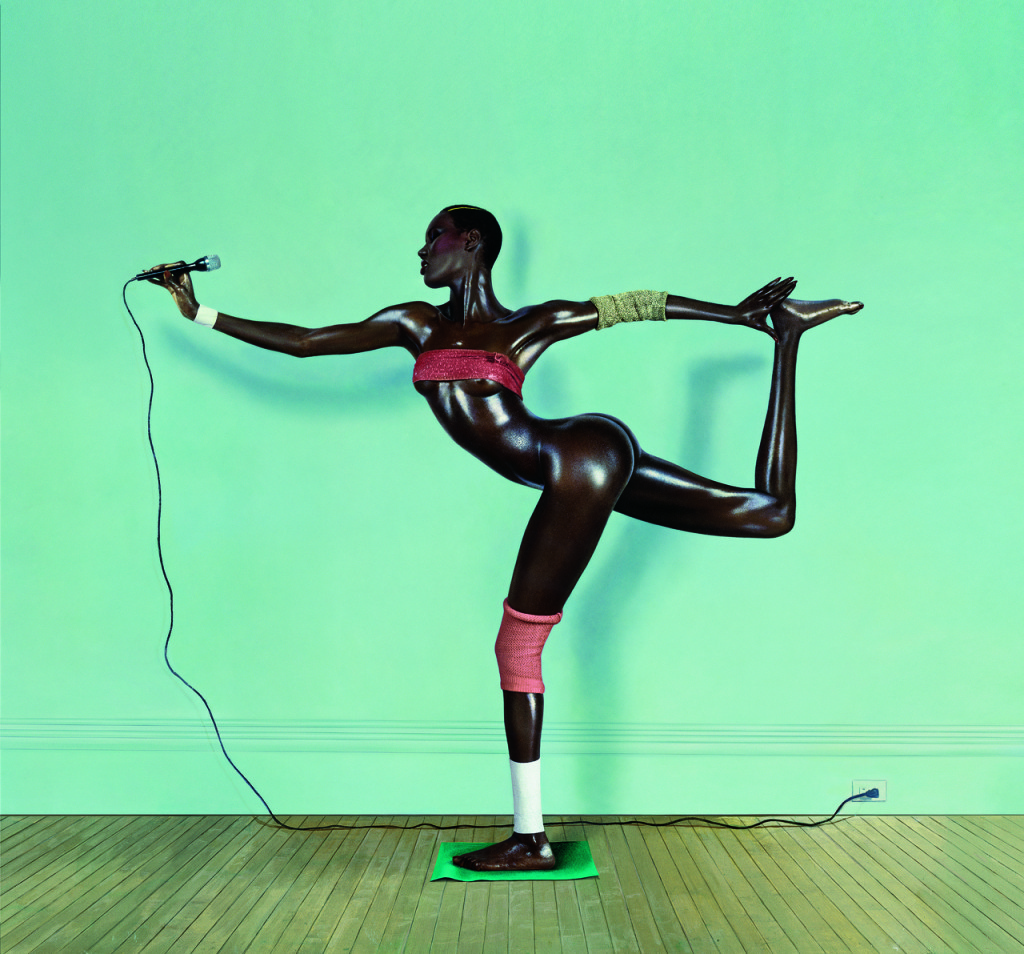 What I was really disappointed in was that there wasn't much discussion in the book about her androgyny, from the vantage point of what people at that time thought of her look, since it was still pretty taboo in the 1970s and 1980s for a masculine looking, black woman wearing a suit.  
I was specifically hoping that would have addressed the accusation of racism in her image that was created by Goude, who said in 1979 "I had jungle fever… Blacks are the premise of my work." I get from the book that she was equally responsible for her image, and most of it draws from exploring her Jamaican upbringing and cross gender feelings.  She also says that she connects more with men, or really gay men, who tended to collaborate with her the most throughout her storied career.
But I am looking at her from a more nuanced perspective. She comes from a different era where a lot of her racial imagery wouldn't be scrutinized like it would be today.  She was asked in a recent interview about how young people today might feel uncomfortable about her image.  In true Grace Jones fashion, she essentially said she really didn't give a …  "Somebody feels uncomfortable with a certain type of art," she said. " But it is an art form to me."
Despite her public image as a wild child, she lives a pretty normal life as a tennis fan and jigsaw player in between being a grandmother.
As a veteran of the entertainment world, Jones gives sage advice, like don't live in superficial Hollywood and eat pumpkins to stay young instead of Botox.  That is probably why she looks so young and fabulous on her book cover!
"In the end, I am quite normal," Jones says.  "I don't have odd habits.  I might dramatize things a bit, but only because I take things seriously, or sometimes not seriously enough."