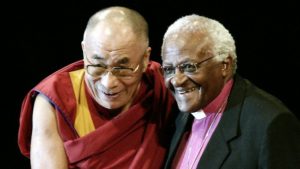 The holiday season should be a time to think about our common humanity.  This has been a really ugly year, and now is a good time to step back and to maintain our courage under fire.
My favorite book from this year was The Book of Joy:  Lasting Happiness in a Changing World by the Dalai Lama and Desmond Tutu.  These two men have faced harsh adversity in their lives and it was great to read their perspectives and advice on dealing with life's struggles.
Desmond Tutu has been a role model to me for many years and I have had the pleasure of meeting him a couple of times.  He is a true fighter and definitely someone that everyone should listen to when he speaks.