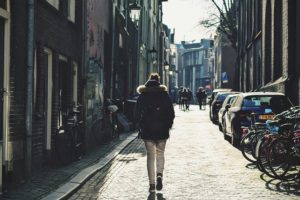 Last week I was watching TV, and an environmental activist appeared on a chat show to discuss how to be more green in your everyday life through transportation.  She hit on all the major points like cycling more and taking public transit instead of driving a car.
What I found lacking in this and other alternative transport discussions are any mention of the most energy efficient and cheapest mode of transportation – walking.  As a matter of fact, pedestrians reduce their CO2 emissions by 14 percent! I have been a "lifelong" pedestrian, meaning I have never owned a car and take public transit to places I can't walk to in a short amount of time.   Of course, I lived in a major urban area with pretty decent pedestrian and public transit options.  However, walking as a primary mode of transport may not be an option for others, like for those living in rural or suburban communities, disabled, have small kids or have to take large objects around with you on a regular basis.
With that said, walking more has many benefits:
It's healthy: It goes without saying that walking more is better for your health.  Even low-impact walking to run errands around your neighborhood can help you burn more calories.  Also, walking is a complimentary, restorative exercise for more rigorous activity.  I usually run three times a week.  On my off days, I like to do yoga or walk longer distances to continue the caloric burn.
Lowers health care cost: A healthy lifestyle means fewer hospital bills.  Many studies show that residents in urban areas that walk or cycle regularly have lower rates of cardiovascular disease, cancer, and diabetes.
It reduces unwanted waste: When you have to walk, you are less likely to buy and carry around things you don't need.  For example, when you go shopping while walking, you only buy what you can carry in (hopefully reusable) bags, especially if you walk long distances.  You will also tend to not want to carry items that have a lot of packaging, which weigh more.  Less packaging equals less waste.
It saves money: You can save a lot of money when you don't have the hassles of maintaining a car or even buying a T pass!  The numbers prove this; a recent study from the American Public Transportation Association shows that people that use public transit over a car save up to $800 per month.  The number goes up even higher for people who primarily walk.