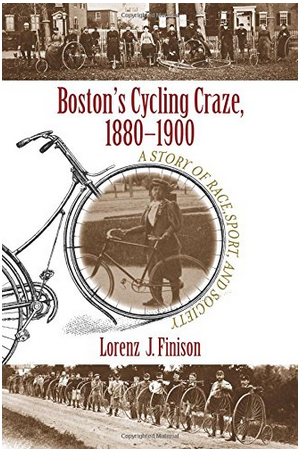 As a disclaimer, sometimes I get free books at my office to review.  I don't read most of them, and when I do, I only write about the ones that appeal to me here.  The latest book to come across my desk is one by Boston historian Lorenz J. Finison. Boston's Cycling Craze, 1880 – 1900: A Story of Race, Sports & Society tells the story of the rising popularity of bicycles one hundred years ago and the social politics that arose out of it.
In the late 1800s, everyone was cycling all over the city.  Most communities had their own cycling clubs.  However, African-Americans were barred from joining these clubs and had to form their own black clubs.  Women were chastised for not wearing long dress while riding bikes and called unladylike (because it makes so much sense to wear long dresses while cycling…).
I really enjoyed reading the book.  I'm a recreational cyclist myself.  I mostly bike during the weekends along the Southwest Corridor and the Charles River Bike Path.  Like the cyclists featured in the book, I feel a certain level of freedom with my cycling.  Because I don't own a car, I have to either walk or take the T to get around the city.  Having a bike allows me to travel when I want to without having to wait for the next bus or train, I can get to where I need to be for free, and most importantly, I don't create a carbon footprint.
I used to cycle a lot more when I was a kid and only recently took up cycling again in the last four years to help recover from an injury and have a complementary activity for running and yoga.  Cycling is such a great way to be active for a long time and not injure your knees while keeping in shape.  The only downside here is that sometimes I cycle so much, I lose too much weight!
Also, I get to notice a lot of things about today's social politics from just peddling around the city for a couple hours.  I see an equal number of male and female cyclists on the roads, but a lot of times its the men who wear the fancy, expensive bike wear to live out their inner Lance Armstrong. Is this ungentlemanlike?
I am more casual, wearing a helmet, a t-shirt and jeans or sometimes running capris if I am cycling long distances.  A far cry from the days of bloomers.
I don't see a lot of cyclists of color, however, I think that is starting to change.  Over the summer, I went on a couple of trips with a group of my black, Latino and Asian friends along the entire Charles River Bike Path.  We also did the annual Hub on Wheels last September to celebrate and promote cycling in Boston.  It was great to see people from all different backgrounds come together – men, women, black, white, young and old.
It shows how much our society has changed over the last one hundred years, and it would be interesting to see what happens in the next century!