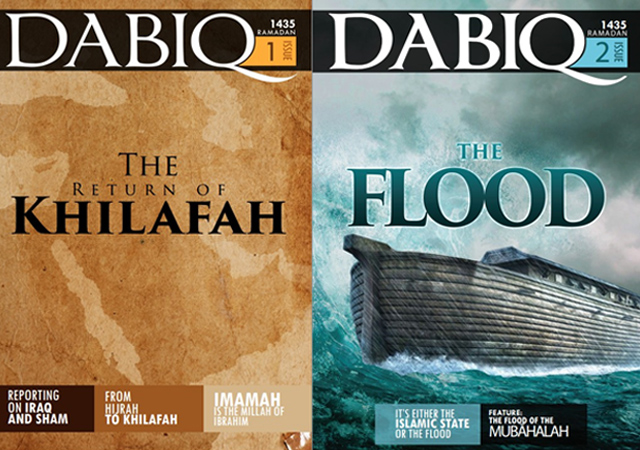 While the United States begins its airstrikes campaign in Syria, ISIS may have already won the media campaign.
As I was researching this topic, I stumbled upon an article about security intelligence firm The Soufan Group analyzing the brand strategies of ISIS and al-Qaeda.  (Yes, they study terrorist marketing!)  According to Ali Soufan, a former FBI agent, there is a generational clash between the two terror groups.  To be more precise, al-Qaeda is Microsoft, a once powerful organization that is now struggling to stay relevant, and ISIS is Apple, the new group for young hipsters.
ISIS is light years ahead of the days when al-Qaeda produced home videos of Osama bin Laden speaking in a cave somewhere.
It's pretty obvious that ISIS takes their "brand" seriously.  From the high production value of their beheading videos, to their sophisticated social media strategy, to their slickly designed propaganda magazine "Dabiq," which is named after a Syrian town where the last Islamic caliphate flourished during the 16th century.  In the multilingual online publication there is imagery of the "coming apocalypse" and calls on all Muslims to fight the "apostates" and "bring about the complete collapse of the modern American empire."
ISIS clearly has a whole marketing team of writers, designers and videographers working behind the scenes.  As a matter of fact, it is believed that the whole media strategy is being run by Ahmad Abousamra, a 32-year-old Syrian-American man from the Boston area with a computer science degree from UMASS Boston.  Now there are reports that Boston, Los Angeles and Minneapolis are "jihad-pipeline" cities for recruiting new ISIS fighters.
ISIS's marketing strategy has been compared to youth media brands like Vice or Buzzfeed.
From The Independent:
…To hammer that point home, see how IS has been promoting the profiles of its teenage recruits, clearly encouraging them to publicise the outfit's brand through their Facebook accounts and other social media.Using the marketing techniques of media monitoring, Soufan points out that on Twitter, a massively influential recruitment and publicity tool for Islamic extremist groups, IS is "crushing" al-Qaeda. Savvy use of hashtags and clever – if warped – videos makes Twitter the perfect tool for the IS product, while al-Qaeda remains relatively silent on the social network. And, while Isis mentions on Twitter rocketed after its early capture of Mosul in June, al-Qaeda mentions increased far less – and that despite the massively heightened global conversation about Islamic terrorism. In recent weeks, al-Qaeda is barely getting mentioned more than it did before the fall of Mosul…
One problem ISIS (or ISIL or IS) has, according to Soufan, is that they might be "struggling" online because of the multiple names.  The U.S. government refers to them as ISIL, while most media outlets use ISIS.
From The Soufan Group:
In the last 30 days on English Twitter, "ISIS" was mentioned 1,371,277 times, while "Islamic State" was mentioned only 193,222 times (the less common English variation and term of reference, ISIL — the L for Levant — was mentioned 55,000 times in the same period).
Regardless, the group is still winning the branding war.
Soufan also notes that it might be difficult for ISIS to keep the momentum going over the next few months as they expand, just like how Apple has to keep people excited every time a new product is released.
The United States and its coalition now has to not only begin thinking about the known violence by ISIS in Iraq and Syria, but also the unknown domestic terror that can by struck by lone wolves who are inspired by ISIS's inflammatory message. You know we are living in fascinating (or corrupted?) times when we are analyzing the marketing habits of a terrorist group!