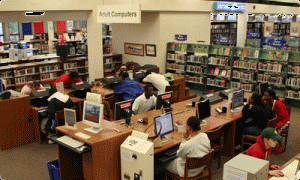 Three years ago, we wrote a post on Global Wire's blog about the future of American public libraries.  As print media dies a slow death, I think a lot about how this essential institution for free expression and intellectual stimulation can stay relevant in the digital age.
Previously we had mentioned that libraries could truly become community centers that offer a variety of social services, especially in traditionally underserved communities.
How about this idea: what if public libraries were turned into innovation districts.  It is a trendy term referring to, according to the Brookings Institution, "geographic areas where leading edge anchor institutions and companies cluster and connect with startups, business incubators and accelerators.  They are also physically compact, transit-accessible and technically-wired and offer mixed use housing, offices and retail."
Here are some ideas:
Housing startups and coworking spaces:  Most public libraries are struggling with limited budgets and resources. Maybe they should consider renting out spaces to local entrepreneurs and their staff who need a space to experiment new ideas for products and services.  Also, many freelancers already use their local libraries as a workspace for the free WiFi.  Maybe libraries could charge premium fees to freelancers for additional amenities like access to copy/print/scan/fax equipment, mail service, storage lockers and private meeting spaces.  The biggest barrier to this is many people probably don't feel comfortable with libraries housed in taxpayer-funded public buildings taking rent money from private enterprise.  I would argue that if libraries were to rent out the space, it should be to businesses and freelancers who are creating products and services that directly serve and impact the library's neighborhood, like a community service oriented, social enterprise.  For example, freelance web developers who build websites for local nonprofits or a company that offers entrepreneurship internships for local youth.
Professional development/training spaces for community members: In the previous post on libraries 2.0, we suggested turning libraries into community media centers, where people can come learn how to use their use e-readers, download free e-books and audiobooks and learn how to better use the Internet.  I would go one step further and suggest libraries offer both free and paid sessions on professional development issues like job search and interviewing skills and salary negotiation.  It would also offer vocational training like entrepreneurship, marketing, graphic design and web development.  Considering that unemployment is still pretty high in many communities, these services could offer great opportunities for those still looking for jobs or new careers.  Sessions could be taught by local entrepreneurs who want to share their skills with others and identify potential new hires.
Networking/Project Nights: I go to a lot of networking events to meet up with other like-minded professionals, but I have to go all the way downtown to attend them.  It would be nice to host such events at local libraries where I can meet up with people doing interesting things in my own neighborhood.  It would also be pretty cool to have project nights at the library and be able to present and receive feedback on a new idea I am working on.
Those are my new ideas for now.  I am sure I will have new ones to post very soon.