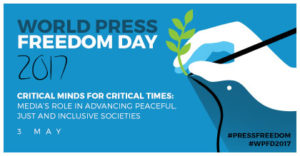 Today is World Press Freedom Day.  This is an occasion to recognize the risks media professionals take to deliver fair and independent journalism.  Press freedom is more important than ever.  The Trump administration lives in a world of alternative facts and fake news.  Trump and his staff have had their share of gaffes, showing their lack of logic and knowledge of basic history.
Apparently, Trump and his people now just walk away from reporters when they don't want to answer tough questions.
Pres. Trump cuts off interview with CBS' @jdickerson after questions on the president's unfounded wiretapping claims https://t.co/et6nwk1UE7 pic.twitter.com/GyKMwGa5Fz

— CNN (@CNN) May 1, 2017
WATCH: Press Sec. Spicer slips out of Press Briefing without speaking or taking questions.

"He says he's not coming back" –@PeterAlexander pic.twitter.com/KyG4X3uClw

— NBC Nightly News (@NBCNightlyNews) May 2, 2017
Journalists have an obligation to report the real facts and question the foolishness coming out of Trump's mouth and Twitter feed, as well as other unsavory public officials worldwide.
Please support real journalism today by supporting groups like the Committee to Protect Journalists and Reporters Without Borders.
Frank La Rue, UN Special Rapporteur on Free Expression, speaks about life in the post-truth world and what the media can do about it.