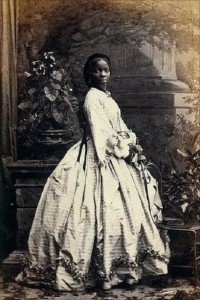 I had my weekly meeting with a group of young girls I mentor last week, and we had a discussion about women and slavery.  One of the girls, Cynthia, was doing a book report on the lives of African women during the Trans-Atlantic Slave Trade.
Being the history buff that I am, I began telling the girls about Sarah Forbes Bonetta, a young girl of Yoruba descent originally named Aina from an area that now part of south-west Nigeria.  As a child, she was orphaned by a war between her family's clan, the Yewa, and the more dominate King Ghezo and his Kingdom of Dahomey.  Sarah was captured by the Dahomans and was going to be killed.
But her life was saved in 1849 by an intervention by British naval officer Frederick Forbes, who was there to negotiate the end of the slave trade.  Although Britain officially ended the slave trade in 1807, both West Africans and Europeans participated in illegal trade for many years after.  Apparently King Ghezo gave Sarah to Forbes as a gift to Queen Victoria.  According to Forbes, Ghezo said, "She would be a present from the King of the Blacks to the Queen of the Whites."  A year later, Forbes renamed the girl Sarah Forbes Bonetta after himself and his ship HMS Bonetta.
Forbes said this about Sarah: "She is a perfect genius; she now speaks English well, and [has] great talent for music… She is far in advance of any white child of her age in aptness of learning, and strength of mind and affection…"
She was brought to England, where she immediately impressed the Queen so much that she made Sarah her goddaughter.  Sarah lived a short and but interesting life, as you will see in the video below.