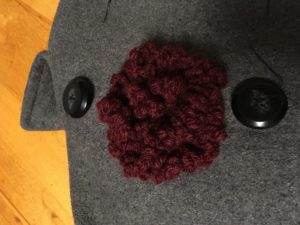 The holidays can be a very stressful time for many people, namely getting the right gift for that special someone.  Between the high expense of certain gifts and the hassles of both online and brick-and-mortar shopping, gift giving this time of the year is a pain.
Sometimes I have to remind myself that the holiday season is really about giving from the heart.  So this year I made crochet gifts for my loved ones.  I gave my Christmas gifts to my niece and nephew early during Thanksgiving.  I used the leftover yarn to create flowers and bow ties.  I think these are simple but awesome gifts.  I have been wearing one of my flowers on my coats the last week and received many compliments and requests for how they are made.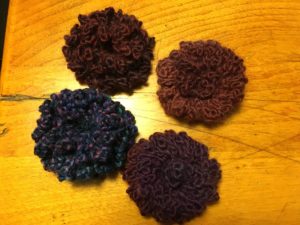 Crochet Flower
The instructions were given to me many years ago so I can't take credit for creating the pattern.  Any worsted yarn will work. I used Red Heart Super Saver Burgundy yarn for the one on the coat and Stitch Studio By Nicole (A.C. Moore) Red Grape Mystic Waves and Lion Brand Caribbean in the other flowers.  I also used a 5.5 mm crochet hook, a scissor and a tapestry needle.
Slipknot, ch 25
Work 1 sc in third ch from the hook, work 1 sc in the rest of the chains
Ch 6 and turn
(Row 1) Work sl st in the ch and ch 6, sl st again in the same st, making 2 loops in the st
Work sl st in the next ch ch 6, sl st again in the same st, making 2 loops in the st
Repeat this pattern until the end of the row
Roll flower and sew yarn for it to stay in place.  You can use a large safety pin in the back of the flower to create a brooch or glue onto a hairpin to create a barrette.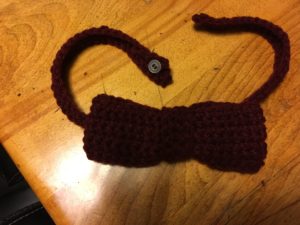 Crochet Bow Tie
I got the pattern for the bow tie on Red Heart's website, which you can see here.
I made this for my nephew.  He liked it a lot. Every man should know how to make a tie or have a premade one!