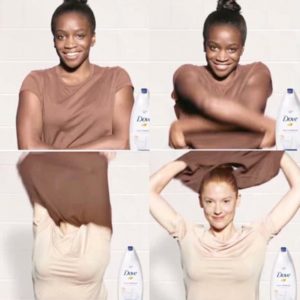 Continuing with the same theme from my article a couple of weeks ago about diversity in the media, this week I wanted to touch on the advertising industry.  Like television shows, the TV commercials during the breaks, as well as ads in print and online media are starting to reflect the changing, diverse American landscape.  Just yesterday, I walked by my local Old Navy store, which featured a black woman and white man in an embrace and a biracial child standing in front of them, implying this was an interracial family enjoying the brand's new winter clothing line.  Then I went to a bus stop and saw an ad from the Chicago Tourism Bureau featuring what could be implied as two gay men also embracing at a festive occasion.  Yes, this is the new normal.
However, in the last few months, there has been a slew of problematic ads getting media attention.  Even when ad agencies have good intentions in their attempt to be more inclusive, they can fail miserably.
Take this above Dove ad.
If you haven't heard about it already, it featured a black woman morphing into a white woman who morphs into an Asian woman.  The main problem here is that it implies that somehow the soap cleans so well that it changes black skin to white skin.  While Dove claims it didn't intend to be racist in the ad, the company has a history of using the same racial tropes in their ads.  Just six years ago, Dove was accused of doing the same exact black to white/dirty to clean ad.
Not to mention that there still product advertising using racial overtones in use today – Aunt Jemima Pancakes, Uncle Ben Rice and Chef Frank White (Rastus) on the Cream of Wheat box just to name a few.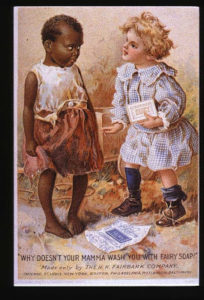 Racist soap ads have a long, unfortunate history in America.  From 1875 to 1921, soap manufacturer N.K. Fairbank used this ad featuring a white child asking a black child, "Why don't you ask your mamma to wash you with fairy soap.  There were other ads with black children getting washed in the tub and come out with white skin.
Unfortunately, I am not surprised that these subtle racial overtones are still used in advertising.  While it is true that the advertising industry is using more diverse imagery in their ad placement, there is still a serious lack of diverse people working in ad agencies.
According to the 2014 Bureau of Labor Statistics, of the 582,000 Americans employed in advertising, less than half are women, seven percent are black, six percent are Asian and 10 percent are Hispanic.   Comparatively by 2044 when it becomes a minority-majority country, the United States will be 49.7 percent white  (63 percent today), 25 percent Hispanic (17 percent today), 12.7 percent black, 7.9 percent Asian and 3.7 percent multiracial.  Essentially, the ad world is lagging behind the real world!  Most of the major ad agencies in America are still run by older, privileged white men who attended elite schools and only interact with people who look like them, often reflecting the TV show Mad Men, but taking place in 2017, not the 1950s.
Also, if there were not only more people of color in decision-making positions but also more people in general with different perspectives with an understanding of how cultural sensitivity and awareness combines with trends and branding, this problem would greatly improve.  And when I mean being in a decision-making position, I don't mean the "Chief of Diversity" or some other BS token minority position with no actual power and never disagree with their white peers within today's corporate environment.  I mean black, Asian, Hispanic and women executives with knowledge and awareness of history and culture who can say, "We can't run this ad because it's racist/sexist/homophobic etc."
I have done work with some larger ad agencies as a subcontracting web graphics developer and I have encountered these racial dynamics in their workplaces, where their token black employee just goes along to get along and agrees with all the dumb ideas from their white co-workers.
So basically until workforce diversity improves, there will be more similar Dove commercials in the future.