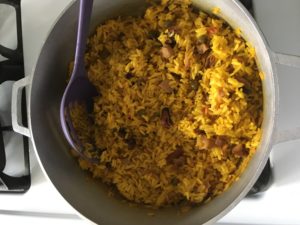 Yesterday, we went to a cookout at my friend Josefina's home.  She and her husband cooked up the usual Fourth of July fare – hot dogs, hamburgers and barbecue ribs and chicken.  All the guests were asked to bring an international themed dish.  I was SO EXCITED about this!
Anytime I can get to make my Paella Valenciana is always a good time for me and those eating it!!!
I have traveled to Spain many times, including a time where I tried to follow the same route my favorite writer, Richard Wright, did in Pagan Spain.  The country, its people, and culture are both so beautiful and mysterious.  I was in Valencia once and took a cooking class at a restaurant on how to cook proper paella.  This dish has different variations depending on what region you are in Spain; however, paella was created in Valencia.
There are also different types of paella – seafood, chicken, vegetarian, chorizo (which is pretty controversial with Valencians), duck and snails.  I have even eaten a version with rabbit!  So for the cookout yesterday.  I made both a seafood paella and a vegetarian paella, which I have to say went over very well with party attendees.
The picture above is the seafood version, which includes shrimp, scallops, squid, and calamari.
Vegetarian Paella Recipe – serves 4 people
Ingredients
Use whatever vegetables you have, but I use:
1 green and 1 red bell pepper
5 carrots
1 eggplant
3 portabello mushrooms
1/2 cup of frozen peas
1 onion
2 garlic cloves or scapes
2 cups of saffron or Bomba rice
3 cups of vegetable broth
4 diced tomatoes
1 tsp of smoked paprika
A pinch of salt and pepper (you can even add crushed red peppers if you like it a little spicy.)
Chop up the vegetables and saute it with onion and garlic in a wide cooking pan for five minutes. Add the tomatoes and saute for two minutes. Add paprika, salt, and pepper and stir for two minutes, making sure it doesn't burn. Add broth and bring to a boil. Then add rice and peas and stir everything to make sure it is evenly layered. Reduce heat to medium-low and let simmer with a cover for about 20 minutes. Remove pan and let sit for five minutes.
Seafood Paella Recipe
Do everything above. You can keep as many vegetables from above as you want, but traditional Valencian paella generally has only peas and maybe red peppers. But that is up to you. I like using the frozen seafood mix from Trader Joe's, which I would simply add after bringing the broth to boil.
Enjoy and please let me know if you try the recipes!