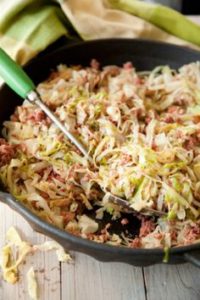 Last Saturday my friends Brian and Mariah came to visit us for dinner.  They are originally from Dublin, Ireland and have lived in New York City for the last nine years.  Since it was St. Patrick's Day weekend, I thought I would make them a special Irish meal.  I asked them if they would like corned beef and cabbage.  Brian said he always hated this traditional Irish meal because it was so bland.
"I have never tasted an Irish corned beef and cabbage I liked," he said.
"Then you have never tasted the Caribbean version of the recipe," I replied.
I offered to cook Jamaican corned beef and cabbage since it is spicier, as well as baked chicken just in case they didn't like.  When I was growing up, my mother made me make this for dinner every Saturday.  It is a pretty simple recipe using corned beef from a can, cabbage, onions, olive oil, salt, black pepper, and your choice of hot pepper (I use pimiento pepper). Pair it with white rice and you have a meal.  Although I don't eat red meat anymore, I still know how to make this flavorful dish to satisfy.  When Brian and Mariah tasted my recipe, they almost flipped out of my dinner table.    Mariah loved my version so much that she asked me for the recipe.
Below are two slightly different variations on the recipe. Enjoy!
"No need to cook and kill the corned beef again." Truth…