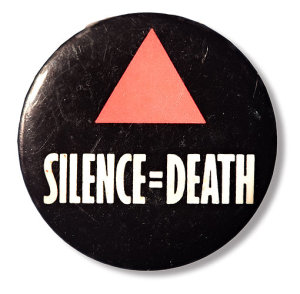 With all the hysteria in the United States around Ebola, it is easy to forget that 25 years ago there was similar fear for another then little known disease called AIDS.  I remember when in the late 1980s there was also a call to actually quarantine those believed to most likely contact HIV, or the "4H Club" – hemophiliacs, heroin addicts, Haitians and homosexuals.  This movement was led by perennial presidential candidate Lyndon LaRouche, who thought AIDS was a plot by the "Soviet War Machine."
Responses from government and public leaders to the AIDS crisis was dismal.  President Reagan did not even say the word AIDS until 1987, when he proposed cuts to AIDS treatment funding and rolling back mandatory testing legislation.  The Christian Right used AIDS to demonize the LGBT community, and William Buckley wrote in a New York Times piece that AIDS victims should be tattooed on their upper arms and behinds like a Scarlet Letter to prevent further spread of the disease.
Fed up with the hysteria and misinformation, a group of activists got together in the spring of 1987 to form ACT-UP (AIDS Coalition to Unleash Power).  Over the next five years they would engage in direct actions that would force the Reagan administration, the media and Big Pharma to pay attention.
This was thanks due in large part to the group's "marketing department" Gran Fury, a volunteer collective of artists and graphic designers who were charged with creating some of ACT-UP's most cutting edge graphics, posters, films, billboards, performance art and other brand messaging.
ACT-UP is best known for the above graphic "Silence = Death," which simply states the urgency of the crisis.  During the Holocaust, gay prisoners were forced to wear pink triangles on their clothing in concentration camps before they were sent to their death.  Gran Fury used the symbol to remind people that not speaking out about this injustice was like death.
This soon became the logo for ACT-UP, which made it's first official appearance at the New York City LGBT Pride parade in 1987 on t-shirts and banners.  The media quickly noticed the "silence", as the whole parade looked like a perfectly choreographed staging of the pink triangle.  Although at the time Gran Fury didn't consciously think this was their brand strategy, they later realized the value of having a uniformed message for the media and spectators.
Legendary artist Keith Haring also used the same messaging of "see no evil, hear no evil, speak no evil" in his piece.
Gran Fury launched the 1989 New York City bus ad campaign "Kissing Doesn't Kill," which looked similar to Benetton United Colors advertising. The ad showed three couples of diverse races and sexualities to highlight that AIDS doesn't spread through casual touching.  It was created to intentionally confuse viewers. Like Benetton, ACT-UP wanted to also promote tolerance among all races, colors and sexual orientations.

At the time, images of interracial and same sex couples kissing in such a public display was a highly charged issue.  When the ad began appearing on buses in Washington, D.C., San Francisco and Chicago, Gran Fury agreed to remove "Corporate Greed, Government Inaction and Public Indifference Make AIDS a Political Issue" in order to reach larger audiences, but this still infuriated some people.  The Illinois State Senate actually prohibited the ad on Chicago Transit Authority vehicles because it feared children would be exposed to the gay lifestyle.
By the early 1990s the tactics of ACT-UP forced the government to enact AIDS legislation, pharmaceutical firms to provide better, more accessible treatment for AIDS victims, and the media to talk about the crisis on its front pages.  Gran Fury will be remembered for creating hard-hitting graphics that agitated for change.  Both social activists, health workers and even marketing executives alike can take lessons from Grand Fury that can still be used today.
Here are some more graphics from the ACT-UP era: