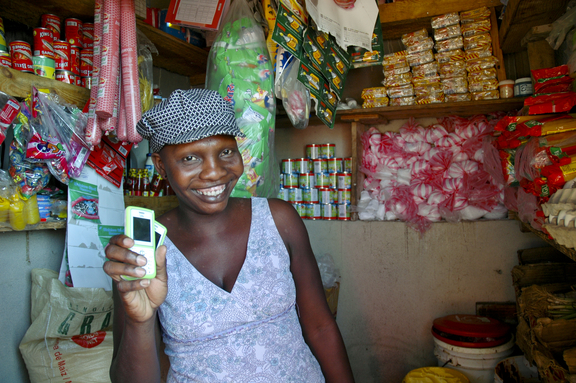 The Broadband Commission for Digital Development released a new report – The State of Broadband 2012: Achieving Digital Inclusion – just prior to this year's United Nations General Assembly in New York.  It is their first ever country-by-country analysis of broadband deployment worldwide.  I had a chance to talk with Dr. Hamadoun Touré, Secretary-General of the International Telecommunications Union (ITU) and Hans Vestberg, CEO of Ericsson at the Social Good Summit following a panel they were on about the future of broadband and digital equality.
The United Nations Educational, Scientific and Cultural Organization (UNESCO) and ITU formed the Broadband Commission in 2010 to look at ways to improve connectivity.  The Commission wants to achieve global digital inclusion by 2015.
"There are over six million mobile subscriptions worldwide and three quarters of those are in the developing world," Vestberg said.  "There are one million broadband subscriptions right now.  By 2017 this will grow to five billion."
The report shows that there are 119 countries that have some kind of national broadband policy in place.  However, more needs to be done by all countries.  The reports says that governments should "promote digital culture and economic activities that are creating new jobs" and encourage the development of more online universities and better infrastructure to support tech innovation.
"The question here is whether broadband is a luxury or a basic human right," said Touré.  "I believe it is a basic human right."
The report stresses the impact technology has on achieving the Millenium Development Goals (MDGs).  It cites World Bank statistics, suggesting that a 10 percent increase in broadband penetration could boost GDP by 1.38 percent in low- and middle-income countries.  Better broadband deployment can also expedite improved health care, education, gender equality and sustainability.
Most people use their mobiles for voice calls, but many don't have access to data. High-speed 3G and 4G technologies are growing in use, but the report says better investment is needed quickly in developing smart technologies to increase data access.  Currently, nearly 15 percent of users in the world have smartphones, and more than half of them in the United States. The reports suggests that carriers need to offer customers the best quality and affordable prices on multiple devices.
Touré said that private sector ideas can play a role in development, which is generally a role associated with governments and non-profits, and practice "the rule of business" by reinvesting in the countries they are helping.
"For 50 years of independence in Africa, our development agenda was based on three words – health, assistance and charity, and it did not work," he said.  "If you try something for 50 years and it doesn't work, for God's sake, you try something else.  There's nothing wrong with making profits."
The report shows that ICT contributes to seven percent of Africa's GDP, which is higher than the world average.  This is possibly because mobiles offers access to services and products that are generally available in their original form in Western nations, like newspapers and banking.  So, of course, the social and economic value of a mobile is higher in Africa that anywhere else.
Touré mentioned that he organized the Connect Africa Summit five years ago in Rwanda to discuss how to improve Africa's telecommunications infrastructure.  The many African heads of state, NGO leaders and private industry executives pledged about US$50 billion.
"In the first two years, they invested $27 billion," he said.  "By the end of the five-year time period, they'll invest over $75 billion in the infrastructure in Africa.  We analyzed problems at the regional level and focused on them to find some solution that we have in larger economics of scale."
However, the report makes it clear that there isn't a "one size fits all" method to closing the broadband gap and it recommends a cost-benefit approach to broadband deployment in individual countries.
To read the full report, click here.